Frequently Asked Questions
Do I need to be a low handicap golfer to get properly fit?
100% NO!
Golfers of all skill levels should get fit for their clubs. Just like how you wouldn't try to run in a pair of ill-fitting shoes, having a properly fit set of clubs will set you up for success and greater enjoyment when on the course.
In most cases of custom fitting, higher handicap golfers cut strokes from their scores faster than lower handicap players due to the extra consistency they gain from their new clubs, when compared to a lower handicap golfer.
What does the TXG club fitting process include?
Am I obligated to purchase anything after my fit?
No.
You are under no obligation to purchase anything that is recommended at the conclusion of your club fitting. We simply deliver the suggested blueprint (golf club specs) and it is up to you to choose whether you would like to purchase any clubs based on the results.
If I order clubs, where are they built?
Unless otherwise requested, every club fit by TXG , is built by TXG in our fully equipped, state of the art build shop in Toronto, Ontario.
Our in-house build shop allows us to control every step of the process to ensure industry leading tolerances, and to make sure the club delivered to you matches the recommended specs from your fitting.
Where is TXG - Tour Experience golf located?
TXG – Tour Experience Golf has two locations in the Greater Toronto Area, and you can find them here on our website: Toronto & Mississauga
How long is the fitting process?
Depending on the type of fitting it will generally last between 1 hour (single club fit: driver, woods, irons), up to 3-4 hours for a full set of clubs.
Note: A full fitting can be broken up into separate appointments at an individual's request.
How can I schedule a club fitting at TXG?
All of our club fittings are by appointment, and to schedule head over to our booking page to get started: Book A Fitting
Are the prices on your website in Canadian dollars?
Yes – The prices listed on our website for the cost of fittings and for equipment is in Canadian Dollars.
What Launch Monitor Does TXG Use?
TXG uses Foresight launch monitors, the pioneer of optical ball flight analysis using a quadrascopic highspeed camera system to provide unprecedented ball and club performance data. These are the same launch monitors used by numerous PGA and LPGA tour players! 
What is Swing Weight?
Swing weight is the relationship between the two parts of the golf club itself; the bottom two-thirds compared to the top third. Swing weight is measured by using a balance scale that finds the proper fulcrum point on the club. There are four factors that come into play when measuring swing weight:  
Weight of the grip, 

 

Weight of the shaft, 

 

Length of the club, 

 

Weight of the clubhead. 

 
How Often Should I Change My Grips?
Once a year, depending on the style of grip you use and the amount you play. The oils on your hands, along with sweat and outside elements cause the rubber to break down. We recommend cleaning your grips a few times each season using mild dish soap and water, a soft scrub brush, and a towel.  
How Often Should I Replace My Wedges?
After about 65 rounds of golf, we recommend inspecting your wedges for groove wear. If you notice spin and distance control are less consistent, it's time for new wedges! 
Is Graphite Better Than Steel?
Graphite and steel shafts offer distinct advantages, and one isn't better than the other.  
Steel offers a variety of weights and flexes, as well as great shot feedback to the player. Graphite also offers a variety of weights and flexes, and the material properties help reduce unwanted vibration and can help prevent injury. 
Working with an experienced fitter can help determine which option will work best for you! 
What Is a Ferrule?
The ferrule provides a smooth transition from the shaft to the hosel. Ferrules can be customized, and TXG offers BB&F ferrules that add a bespoke splash of colour to your clubs! 
Can You Fit a Putter?
Yes! Just like any other club in your bag, fitting a putter is about optimizing its specs to fit your putting stroke and to create ideal launch conditions for better roll. This can include altering lie angle, loft, length, grip size, head weight, and shaft. TXG uses the Quintic Ball Roll Launch Monitor for fast and accurate information about the club and ball, without any attachments affecting the club or the player!  
How Often Should I Get Loft and Lie Checked?
We suggest having your lofts and lies checked once a year for cast clubs, and twice a year for forged irons. Clubs can slowly go out of spec with regular practice and play, especially if you practice off mats.   
How Far Should I Hit My Driver?
A golfer's optimal distance is determined by their driver swing speed combined with their delivery into the ball at impact. Use the chart below to determine your distance potential based on your swing dynamics.  
Image Courtesy of PING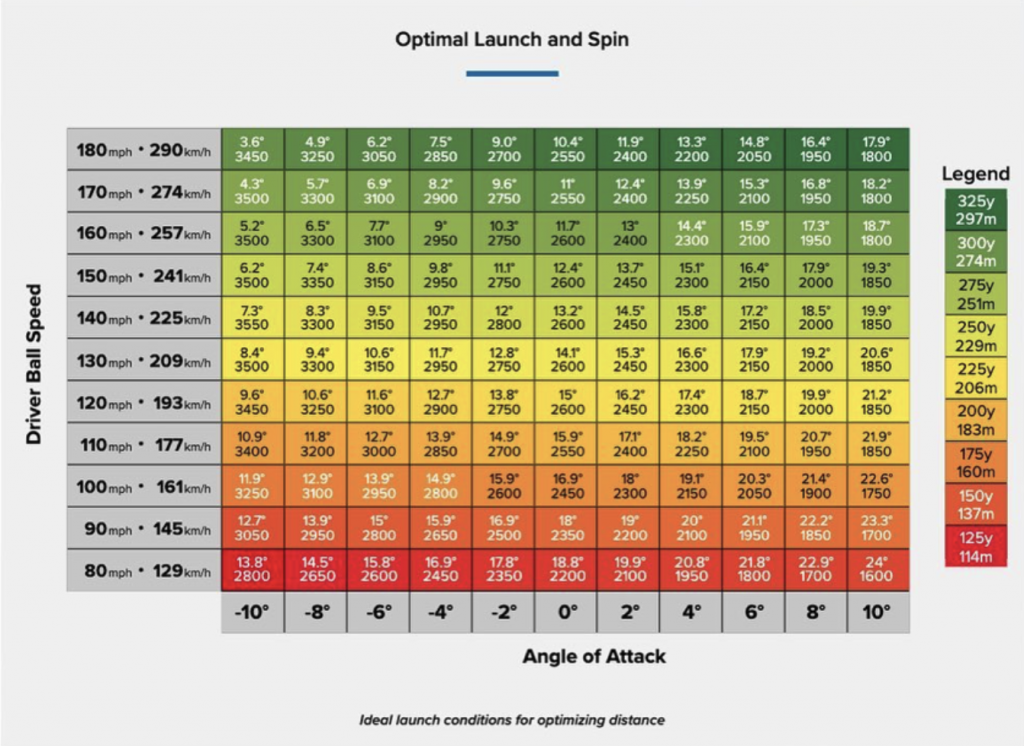 What is Shaft Tipping?
Shaft tipping is the process of cutting from the lower "tip" section of the shaft to fine-tune flex for an individual golfer. It can be done for drivers, fairway woods, hybrids, and irons.  
What Is Strokes Gained?
Strokes Gained is a statistical analysis that compares every aspect of a golfer's performance. It allows an individual to compare their performance with other players within a chosen dataset and can help with improvement.  
What Is Smash Factor?
Smash Factor = Ball Speed/Clubhead Speed.  
For example, if you swing a driver with a clubhead speed of 100mph and generate a ball speed of 150mph, the Smash Factor is 1.50. The higher the Smash Factor, the more ball speed you are getting for a given clubhead speed.  
What is Land Angle?
Land Angle is the angle at which the ball hits the ground. Assuming all else is equal, a lower (flatter) land angle will create more bounce and roll. On "normal" fairways, 1 degree of land angle will change the bounce and roll by 1.5-2 yards.  
What is Lie Angle?
Lie Angle is the measured angle from the shaft to the ground when the clubhead is soled parallel to the ground. Correct lie angles through your set improves dispersion. 
What Is in a Long Game vs Short Game Fitting?
Long game fittings are three hours and include fairway woods, drivers, hybrids, and irons. Short game fittings are two hours and include putters and wedges.