Are strong lofts better?
When it comes to irons, one of the biggest differences between smaller and more compact "players" irons, and technology-packed, thin-faced game improvement styles is the stated loft of the same numbered club.  Many golfers simply assume that companies make stronger lofted irons to "trick" golfers into thinking they're hit their clubs longer than they do to sell more, where in reality it couldn't be further from the truth.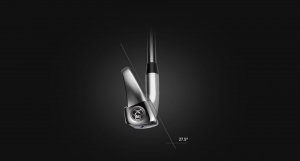 Like any other golf club, irons are designed to fit a target demographic of golfers, and one of the biggest segments of golfers are those that cut across the ball and create excess dynamic loft at impact. This results in sub-optimal and excess spin along with a tilted spin axis which causes a distance reducing fade.

To help counteract that common issue, and to help golfers hit the ball straighter, faster-faced irons help to increase ball speeds and boost MOI – a measurement for forgiveness. The issue created by irons with thinner faces and lower CoG – Center of Gravity, is that the ball wants to launch much higher into the air, and still produce more spin.
The Solution
By pairing larger and faster, thin-faced irons with stronger lofts, golf club engineers can find the perfect balance of adding forgiveness and launch without robbing players of distance creates by excess spin. For players in the average to intermediate swing speed categories, this can results in some substantial gains to distance and consistency – and who doesn't want more consistency in their golf game?
We put stronger lofts to the test
You can check out the full video below where we put the Cobra RAD Speed irons and their strong lofts up against a more traditional lofted Titleist T100 (first gen) with some very surprising results.